A Straight-Shooting Bartlesville Criminal Defense Attorney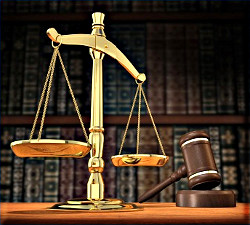 When you're charged with a crime, you may feel frightened, frustrated and overwhelmed. A flood of feelings can leave you unprepared to intelligently defend yourself within the legal system. Bartlesville criminal defense attorney Peter J. Knowles routinely works with people facing a legal crisis to develop plans for action that can avoid prosecution, make bail affordable, get charges reduced or win acquittals.
An experienced, caring advocate, Knowles helps clients who are facing criminal allegations in Washington County courts, from pre-arrest investigation through post-conviction appeal. Proactive and aggressive representation can sometimes persuade prosecutors they are looking at the wrong suspect. A criminal defense attorney can sometimes convince prosecutors to issue a summons rather expose clients to the embarrassment and inconvenience of an arrest. At arraignment, an aggressive advocate can win reduced bond amounts, or argue for personal-recognizance release without bond.
If you or someone in your family is charged with a crime, contact the Bartlesville criminal defense attorney today for a consultation. The call is free, and the information you gather during an initial consultation could make a huge difference in the direction of your case. Call today — (918) 213-0950 or toll free at (888) 947-8452.
Find the Right Criminal Defense Attorney
When the criminal justice system has you in its sights, your choice of an attorney could make a dramatic difference for your future. Don't be left in the dark while your lawyer mounts a bare-bones defense without exploring with you what options you may have. Bartlesville attorney Peter J. Knowles is a straight-shooting, plain-talking Oklahoma lawyer who is up front with clients about what results they might expect and what strategies may work best.
Some attorneys may hold strong views about the criminal justice system, but when it comes time to go to bat, they bunt. Others swing for the fences. When you're facing criminal charges, you need an advocate who walks the walk. Effective criminal defense advocacy can require keen knowledge of the law, relentless legal research, tenacious investigation, persuasive argument and hard-nosed negotiation. Prosecutors may review a case in the light most favorable to police who brought them the case. Peter J. Knowles reviews the unique facts of each case in the context of the law to find ways prosecutors may be convinced they're going in the wrong direction.
Some advocates may consider preliminary hearings in minor criminal cases to be a casual formality. An aggressive legal advocate knows better. Police and prosecutors are required by law to have more than a vague suspicion before they haul someone into court on criminal charges. If a defense attorney calls the question, prosecutors are required to show at preliminary hearing they have evidence to support charges. If an investigation has been built on shoddy evidence or hasty suspicions, preliminary hearing is the time to put a stop to it by showing the court there was insufficient cause for an arrest.
Time is (Usually) Not on your Side
When you are charged with a crime, time matters. If you've been charged with DUI, you have only 15 days to apply for a provisional drivers license. If you've been convicted of a crime, you must act before the clock runs out or lose the opportunity to appeal. If you're the subject of an investigation and think you might be charged with a crime, it's never too soon to talk to an attorney.
When prosecutors try to rush you through the system, strategies to gain more time may give you the opportunity to mount an effective defense. On the other hand, if prosecutors don't recognize your right to a speedy trial, an effective defense attorney can often get your case thrown out.
Don't let the clock run out on your chance to defend yourself. And don't be the victim of a perpetual prosecution after the prosecution's clock has run out. Find an attorney today who knows when its time to stand up for your rights.
Consult Today
Bartlesville criminal defense attorney Peter J. Knowles or his staff consults with persons facing criminal charges to assess their case and assist them in deciding if the Wirth Law Group Bartlesville attorney is the right advocate for their case.
Whether your case involves a felony, misdemeanor, a traffic infraction, a DUI or a post-conviction appeal, call the Bartlesville criminal defense attorney today for a free consultation. The Washington County defense attorney can also help get previous convictions expunged from your record, or help you prepare a viable pardon application.
If you would like a free consultation with a Bartlesville Oklahoma criminal defense lawyer, call today — (918) 213-0950, call toll free at (888) 947-8452, or submit the question form at the top right of this page.