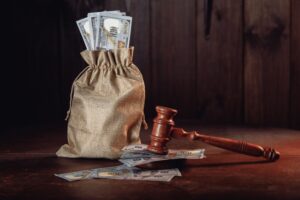 What You Need to Know about Spousal Support in Oklahoma
We often get calls where a potential client or a client is concerned as to whether or not they're going to have to pay spousal support to their soon-to-be ex-spouse and how it works. Generally, spousal support is in play whenever there's a long-term marriage and one spouse becomes reliant upon the other as part of the marital arrangement to support the family.
In these situations, the other party may be a stay-at-home parent or a homemaker, and so the law provides that that person who was the stay-at-home homemaker should be entitled to some support for a period of time so that they can reintegrate into the workforce because they've had to forego their career opportunities or advancement as part of this marital arrangement.
Factors That Determine Spousal Support in Oklahoma
When deciding whether to award spousal support in Oklahoma, a court will consider several factors, including:
The duration of the marriage
The age, health, and earning capacity of each spouse
The financial needs of each spouse
The standard of living established during the marriage
The contributions of each spouse to the marriage, including homemaking, child-rearing, and supporting the other spouse's education or career
The court may also consider any other factors it deems relevant to the case.
What Happens if There Is a Disparity in Income?
If there is a disparity in income, even if the reliant party is working some, the other spouse can be ordered to pay spousal support. That amount is based on generally two factors: 1) The party that is seeking spousal support will have to establish what their need is, and that's a function of taking their net income and subtracting their reasonable monthly expenses, and 2) how large the deficit is.
On the other side, the party that is being asked to pay spousal support, they'll take their net income, subtract their reasonable monthly expenses, and then see how much of a surplus there is, and to the extent that the surplus can satisfy the need.
Modifying Spousal Support in Oklahoma
Spousal support orders in Oklahoma can be modified if there is a significant change in circumstances. For example, if the paying spouse loses their job or becomes disabled, they may be able to petition the court for a reduction in spousal support payments. Similarly, if the receiving spouse remarries or becomes financially self-sufficient, the paying spouse may be able to petition the court for a termination of spousal support.
Free Consultation with an Oklahoma Spousal Support Attorney
Spousal support is an important consideration in any divorce case, and it's essential to understand the factors that determine whether it will be awarded and how it will be calculated. If you're going through a divorce in Oklahoma and have questions about spousal support, it's a good idea to consult with an experienced family law attorney in Oklahoma who can provide guidance and advice based on your specific circumstances.
Now, it's not like child support where there's a computation and it's very black and white. It is very gray, and there's a lot of discretion with the judges as to how much spousal support they will award and for what length of time. There are a lot of arguments on both sides, both for and against spousal support, and it's important to have an Oklahoma spousal support attorney on your side that is experienced in dealing with these issues.
For a free consultation with a Bartlesville spousal support attorney, call Wirth Law Office – Bartlesville today at (918) 213-0950, or fill out the short form at the top right of this page. Regardless of how you contact us, a Bartlesville spousal support lawyer will be in touch with you shortly.